Yet another account on Tricia Lyman's informative Puerto Vallarta Facebook Group about someone's driver's license being confiscated after being issued a ticket prompted me to do something I've been wanting to do for a while: read Puerto Vallarta's Reglamento de Tránsito y Vialidad para el Municipio de Puerto Vallarta, Jalisco (i.e. the local traffic laws) from A to Z, and highlight the juicy parts. I'm glad I did. The law in general and traffic laws, in particular, are definitely not my area of expertise. That said, given the number of laws that are frequently disregarded locally, most likely due to ignorance rather than malice, I couldn't resist breaking them down to the best of my ability.
Where are the laws?
Anyone interested in reading Puerto Vallarta's Traffic Laws can find them online at the city's official website, in a section called Normatividad, where you can find rules and regulations relating to many aspects of our daily lives as Puerto Vallarta residents, from our relationship with sister cities to how tall buildings should be constructed and how they should look to match the overall visual identity of the city. Imagine that!
Clicking on this link downloads a text version of the Reglamento de Tránsito y Vialidad Para el Municipio de Puerto Vallarta, Jalisco (our traffic laws), in Spanish, of course. A traffic policeman recently told me that hard copies of the traffic laws (and probably others) are available for sale at Papelería Limón (Venustiano Carranza 315, Emiliano Zapata).
The Puerto Vallarta Traffic Laws are organized into three titles, each containing a number of chapters and articles. It was last approved by City Hall in February 2006, with additional reforms introduced in 2016, which include specific legislation for bicycles and motorcycles.
I read through the whole thing, highlighting the sections that I thought might be particularly useful to me while out and about in my car or somebody else's, and for an amusing conversation with my friends. By sharing my comments with you on specific articles or sections, I am not suggesting you challenge the authorities if you get stopped! (I do carry my annotated version of the traffic laws on my iPhone, just in case… You never know!) If you read elsewhere that things are actually handled differently out in the real world, power to you! I'm simply translating and interpreting what I read.
For your amusement, the items that jumped at me or I found particularly important to know on the go, in the order in which the laws are presented:
The First Title and its Chapters/Articles have to do with general dispositions. For example, Article 6 clearly indicates that it is against the law to block public parking spots throughout the city with foreign objects. This made me laugh. Feel free to laugh with me!
Article 18 indicates that traffic cops should, among other things, address the citizenship in a courteous way. It also mentions that cops are to avoid any action that could be interpreted as an abuse of authority. I mention this should somebody get ugly with you in that regard.
Chapter IV has to do with the definition and classification of vehicles, and Article 20 specifically mentions that bicycles, motorcycles and scooters are considered vehicles as well, along with others of human, mechanical, electrical or animal propulsion.
Article 22 indicates that your license plates must be current and you must have an insurance policy in place for your vehicle covering third party damages. (Note to self: check the expiration date.)
Article 27 is all about driving your foreign car in Puerto Vallarta. Your vehicle must be in good legal standing in your place of origin, have a current permit from Mexico's customs authorities. Your spouse, parents or children can drive the vehicle if they are also foreigners. If it is driven by anybody else, you must come along for the ride. Otherwise, your vehicle will be confiscated.
Article 28 indicates that your vehicle will be towed if you park where you're not supposed to. Of course, there are all those streets in Emiliano Zapata where the sidewalks widen and contract and there is no indication that you're allowed to park next to the wide sidewalk stretches, reducing the number of available traffic lanes, but what do I know.
Then, Article 29 indicates that you have to be informed where your vehicle is being taken to if it is towed. Of course, if you are not there, you're on your own. And if you happen to return while the tow truck is doing its thing, you can get your car back on the spot, but you'll be responsible for your fines and the tow truck fees, anyway.
But they took my driver's license from me!
Yes, it is true. Apparently the traffic fines are so low (more on that later), local cops are in the habit of confiscating your driver's license to make sure that you'll pay your fine, which you must do if you want it back. But Article 31 clearly states that traffic cops are not authorized to confiscate your driver's license or any other type of ID or legal document. Again, I'm not suggesting you challenge a local cop! Simply stating what I read.
Article 36 indicates that public buses must have a passenger's insurance policy in place, carry a fire extinguisher on board and keep their front and rear doors closed while they're moving. You try telling that to the Marina Vallarta bus drivers during rush hour!
Article 37 is a no-brainer: you must carry a valid license to drive your particular type of vehicle, while 38 indicates that licenses from other states are just as valid, and 39 indicates the driver classification according to the law. Clueless or hopeless are not among the options.
Chapter 7 deals with drivers' obligations and Article 40 indicates that all in the car must wear a seatbelt at all times. It also mentions that on a one-way street you should travel in the proper way. Again, a no-brainer, but considering the lack of arrow signs in many streets in town, one has to wonder how can this be properly implemented. It also mentions that vehicles should circulate at an approximate distance of six meters (20 ft.) from each other. I'll believe that when I see it.
Chapter 8 deals with things drivers are not supposed to do, including carrying their entire family in the back of a pickup truck or play music at a volume that contaminates surroundings (Article 41). Ha!
It also mentions one of my favorite pet peeves of driving here: drivers that prevent vehicles to cross through an intersecting street by blocking it when there are stopped vehicles ahead. No can do.
Chapter 10 deals with how we park and Article 49 indicates that City Hall can grant or deny exclusive parking permits (you know, the "you can't park in front of my building because I paid to have a yellow line painted on MY sidewalk, so there" variety) for up to a year after conducting a feasibility study. In reality we know that these permits are expensive and the city has granted so many of them in busy neighborhoods, such as Emiliano Zapata, it will take a small army and maybe a huge budget to implement the parking meters the city has been talking about as of late.
Article 50 spells quite clearly that you cannot place objects on the street to save a parking space for yourself. It also says that a traffic policeman can remove the objects and fine those responsible for them, but it doesn't spell out loud that you cannot remove them yourself, so if you wish to indulge in a bit of civil unrest, please be my guest!
If your company has a vehicle flotilla (two or more) you have to produce your own parking spaces for your vehicles. You cannot park in front of homes or businesses adjacent to yours, says Article 54.
How far away from a street corner should you be when you park there? Five meters (16 feet), according to Article 55. No comment.
Now we move on to the Second Title, which deals with circulation. Article 58 is a helpful crash course on the hierarchy of streets, and Article 60 offers different scenarios as to who has the right of way in an intersection. Article 64 clarifies a behavior seldom seen here: if you travel down a two- or more-lane streets and your vehicle is slow, you take the right lane. If you want to pass, you pass on the left side. Article 65 indicates you should use directionals. Isn't that funny? We haven't discovered them yet! And if you are prone to pass as you drive through the Libramiento tunnels, or bridges or overpasses, Article 66 says you are breaking the law. Switching lanes? Article 67 says you must use directionals. Imagine that!
The fact that it's taken all these articles for the laws to mention bicycles again (in Article 74, and simply indicating that cyclists must ride with precaution) gives you a sense of how little this environmentally sound means of transportation is still overlooked by our government and surely many others out there. But read on to discover the latest addendums to these laws, implemented a few years ago to give cyclists a rightful place at the table.
Article 81 delves into the different types of traffic signs available with much detail, and it includes a crash course on whistle signals used by policemen so sophisticated, it would probably make Captain VonTrapp (you know, The Sound of Music) blush with envy.
Have you been in a car accident? If there were no deaths or injuries, Article 90 says you can come to an agreement with the other party on your own without police intervention. Otherwise, authorities can and will take matters into their own hands with due diligence.
Starting on Article 96, we dive into the area of traffic tickets and fines, which are determined based on the salario mínimo or minimum daily wage in your locality. In December 2019, President Andres Manuel López Obrador raised the minimum daily salary by 20 percent to $123.22 pesos. This means that a person that earns salario mínimo takes home $739.32 per six-day work week—or approximately $2,700 pesos per month—before taxes.
Is your vehicle missing a windshield wiper? That'll be a one salario mínimo fine, or $123.22 pesos, says Article 97. You're fined the same amount if you throw trash out your window as you're driving or if you put your plastic chair out on the street to reserve a parking spot for yourself (remember Article 50?). So, if the person who put the chair out only gets fined $123.22, if at all, will he/she learn a lesson and not do it again? Probably not.
Did you park at a handicapped spot? That's two salarios mínimos or $246.44 pesos for you (Article 99). Did you allow someone without a driver's license to drive your car, curse at a cop or pass on the right side of the road? That's three salarios mínimos (Article 100). Did you go through a red light? That's eight salarios mínimos (Article 101).
The list continues. For example, Article 108 mentions that taxi drivers will be fined 20 salarios mínimos or $2,464.40 pesos if they charge you more than the authorized rate for a ride. But it's a chicken and egg situation. If fines were higher, people would be more likely to drive better. But if salaries are so low and overall knowledge about driving and traffic laws seems lacking, how could people afford to pay the fines if they were ticketed? Article 115 does spell out that if you pay your fine within the first five business days, you get a 50 percent discount on the ticket.
Article 133 says public intersections must have handicapped-accessible ramps with very specific dimensions. Wouldn't that be lovely?
Articles 134 – 139 represent the final addendum made to Puerto Vallarta's traffic laws introduced in 2016, outlining the rights and responsibilities of cyclists and motorcyclists. Regardless of what they spell (you must wear a helmet and a reflective vest at all times, Article 135) when it comes to cycling culture and awareness, Puerto Vallarta is in diapers, unfortunately, but hopefully this will change as time goes by. In the meantime, if you are riding your bicycle through an intersection while car is trying to make a right-hand turn as you are pedaling through it, YOU have the right of way, says Article 136. But are you going to take a chance in Puerto Vallarta as a cyclist?
I didn't think so.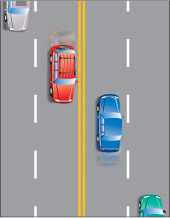 One final pet peeve: have you noticed all those vehicles courageously attempting left-hand turns in the middle of nowhere along the Libramiento or Ave. Francisco Villa with a ton of incoming traffic? Maybe, just maybe, one of these days the Puerto Vallarta Traffic Laws will actually acknowledge the double continuous line. And maybe one day, drivers will realize that in most civilized places you do not take a left-hand turn on a continuous line, a glaring omission in our legislation.
Did you enjoy this article?
If you found this article useful, consider buying me a coffee. Maintaining this website advertiser-free allows me to focus on topics that are truly important to you, the reader. Thank you in advance for your continued support! —Paco
(If you are unable to click on the coffee icon, below, please click HERE.)

Image by Johannes Plenio from Pixabay